Direct Market Access (DMA) is one of the finest Electronic Systems of the financial market which enables the trading firms to trade securities by placing the order directly on the stock exchange.
What is DMA?
Direct market access (DMA) refers to a method of electronic trading where investors can execute trades by directly interacting with an electronic order book, which records the orders that buyers and sellers place in the stock exchange. DMA service allows a trading firm to route their orders to an exchange while using their own trading platform and connecting to the exchange via a broker software solution.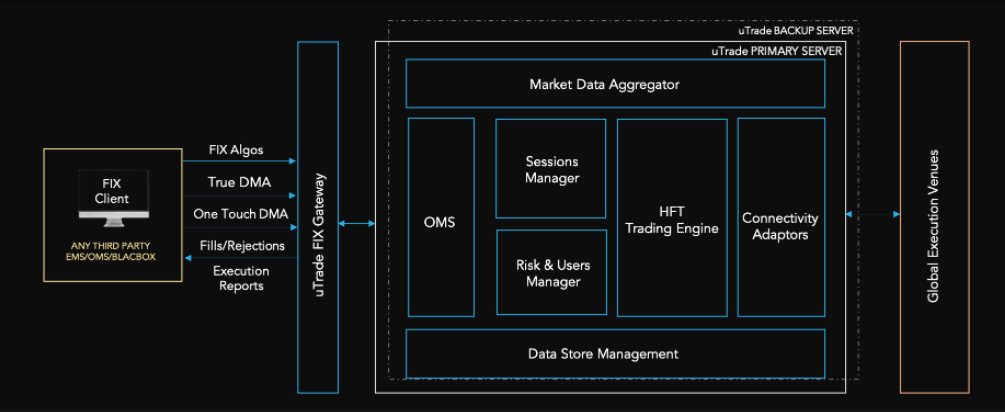 The orders remain in the book until they are fulfilled by matching the price that a buyer wants to pay to purchase a security with the price that a seller wants to sell the security.
How does DMA Work?
Usually, placing orders in the order book can only be done by brokers and financial institutions. Traditionally, if an investor wanted to place a trade, he/she would notify a broker online or over the phone. The broker would then look up the best price for investors.
Using direct market access, it allows traders to bypass a broker and access the stock exchange directly.
With uTrade, you can use low latency DMA API with all the necessary exchange mandated risk checks, local compliances, and order routing to native protocols of desired exchanges; for managing clients order flow generated by the client's algo engine and/or OMS.
Who Uses Direct Market Access?
1. Direct market access is recommended for advanced and experienced traders & trading firms.
2. Additionally, it is also suitable for investors who are looking to place large volumes of transactions due to the requirements to execute orders with high volumes.
3. In addition to private traders, users also include buy-side firms, such as hedge funds, mutual funds, pension funds, and private equity funds.
What are the Advantages of Direct Market Access?
1. Offers direct access to the market
With Direct Market Access, you're in direct control of your transactions, and you won't have to pass your trade through in-house traders and brokers.
When you go through a broker, you are required to pay for the dealer's or broker's time, expertise, and responsibilities. Direct Market Access trading shoulders every responsibility on you, making you a liberal trader. DMA is cost efficient, and secure with lesser chances of information leakage around your targeted trading style.
With uTrade DMA Trading  you can subscribe to market data and place orders across 100+ global exchanges, gateways, OTCs, dark pools, private liquidity pools, and more.
2. Quick transactions
The absence of a broker in the trading process makes it easier for you to access the market. This reduces your costs and the time it takes to execute your transactions.
uTrade's direct access trading platforms provide ultra low latency engines with sub-10 microsecond latency from market data tick-in to order-out.
3. High-frequency customized trading
High-frequency trading is an algorithmic trading strategy that uses high-frequency data and trading tools to yield high speed and high turnover rates. Investors can't get this access while trading through brokers and traders.
With uTrade you can build your own trading platforms and algorithms, and plug them to the uTrade engine with an API of your choice!
Clients using different frontend systems like Bloomberg, Fidessa, Reuters and others, may use uTrade's DMA API to seamlessly connect with the uTrade Trading Engine for FIX based Trading, over FIX 4.2 or FIX 5.0 SP2.
4. Safe transactions
Security is one of the key concerns for investors, and conventional trading has left thousands of unsuspecting investors mourning the loss of their time and hard-earned money. The DMA technology provides you with a high degree of anonymity as you'll be transacting behind your DMA provider.
uTrade provides DMA Trading applications for desktops, web browsers, phones, tablets, watches – with comprehensive analytics and risk management.
5. Guaranteed availability of relevant information
uTrade Direct Market Access systems don't simply open paths to the exchanges' order books. uTrade ensures that the flows of the relevant information you need to transact your business are available and at the right time. You get this information exactly the way it came from the market analysis.
uTrade is widely integrated with popular third party applications for charting, analytics, order routing, news & social feeds, and more.
You can easily add and support all your trading divisions & teams on a single centralized trading system with uTrade.
Click here to request a discussion with uTrade and discover how to upgrade your DMA setup.